PRESS & REVIEWS
The first tune, "On The BT", is spectacular…the piano player (Daniels) is soulful and connects… Take this CD into any hard core bop club and the regulars would stand attention and shout – Yea, Baby!!
Dick Crockett, The Voice 88.7 FM, Sacramento, CA
PRAISE IN THE PRESS for Loren Daniels' "Ticket To Ride"
Released October 2022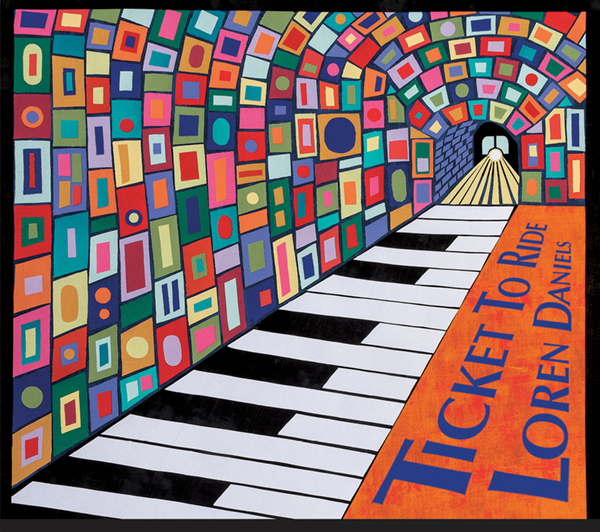 ON THE JAZZ CHARTS — Ticket To Ride is cruising to the top! 
CHART
COUNTRY
LIST PLACEMENT
DATE
# STATIONS
Jazz Week
US
 # 175 

11/21/22

10
Jazz Week Chart (Airplay)
US
 # 285 

10/17/22

3
 WERU FM
NACC Top 10 Jazz Albums
US
 #7 debut placement
10/30/22
 
 WERU FM
NACC Top 10 Jazz Albums
US
 #10
11/7/22
 
"Not since the recently departed Ramsey Lewis has a pianist and keyboardist so impactfully, artfully and imaginatively captured the jazzy possibilities of the Beatles catalog as veteran East Coast performer and educator Loren Daniels."
Jonathan Widran – The JW Vibe – Music That Sticks to My Soul
"Throughout [Ticket To Ride], Daniels balances familiar melodies with attendant as well as sometimes unexpected arrangements. The four-minute opener, "Drive My Car," has a soulful currency highlighted by some tasty B3 flavoring. Daniels' midpoint acoustic piano solo brings to mind fellow pianist/vocalist Les McCann; while acoustic bassist Belden Bullock also contributes a nice solo spotlight. …Daniels' utilizes a bossa nova dreaminess to "I'll Follow the Sun," which melds percussive vocal layering with electric piano and Reggie Pittman's salient flugelhorn involvement. On the other hand, Daniels' rendering of the typically gentle "Blackbird" escalates the tempo with an Afro-Cuban and Brazilian 6/8 pulse which drives this number into a mid-swinging vehicle of improvisation and enjoyment."
Doug Simpson – Audiophile Audition
Not since the recently departed Ramsey Lewis has a pianist and keyboardist so impactfully, artfully and imaginatively captured the jazzy possibilities of the Beatles catalog as veteran East Coast performer and educator Loren Daniels. That's because in his view, and explaining why he chose one particular Lennon-McCartney tune as the title of his album, "In jazz, every song can be a 'Ticket to Ride.'"
 Even as he and his trio (bassist Beldon Bullock and drummer Jonathon Peretz) toy cleverly, groovingly and sometimes hypnotically with a mix of the most familiar ("Eight Days a Week") and relatively obscure ("I'm Only Sleeping") Fab Four gems, Daniels has one distinct advantage over Lewis. In addition to his ivory, organ, electric piano and melodica wizardry, he's a supremely soulful singer with a sweet falsetto, and that allows him to emotionally inhabit the material beyond what he could accomplish just with his creative fingers.
Jonathan Widran – The JW Vibe
"Keyboardist and vocalist Loren Daniels delivers fresh and lively jazz renditions of some popular Beatles songs on his new album, Ticket To Ride. The album's title track has an unusual flow, with things slowed down and stretched out a bit, giving it a bit of a dreamy atmosphere at first. He then changes things up on the "I don't know why she's riding so high" section, mainly by layering the vocals the way he does, providing his own backing vocals. I'm not sure I've ever heard this song approached in quite this way before. This track helps us take a fresh look at a song that most of us know by heart. I love the percussion here, which gets more exciting as the track progresses.
Michael Doherty
MICHAEL DOHERTY'S 
MUSIC LOG
"On his brand new album, entitled "Ticket To Ride", Loren Daniels has rearranged, modernized and transformed [The Beatles] music into stirring jazz.
While originally conceived as an acoustic trio set with vocals, the project grew over time with Daniels also being heard on organ, electric piano, melodica, and multi-tracked background vocal harmonies! With fine contributions bu the supportive team of bassists Belden Bullock and drummer Jonathan Peretz, Daniels sings a few well-known Beatles songs along with some that are rarely performed, creating a continually surprising set of music.
The fabulous Ticket To Ride, perhaps the finest recorded showcase for the multi-talented Loren Daniels to date, evokes the coming together of the Beatles and creative jazz, shedding new light on the songs of Lennon and McCartney."
Anne Carlini – Exclusive Magazine
"Loren Daniels pulls off fine set of Beatles songs in unique jazzy vein.
The first thing that needs to be said about this disc: Keyboardist-singer Loren Daniels blows away the notion that Beatles songs have already been covered every way imaginable, because they haven't. Daniels shows incredible imagination with this collection of 10 jazz-based arrangements, each inspired by familiar Beatles songs but often played in ways you haven't heard them.
It's fun, that's for sure. And there's nothing tired about it."
Tom Henry – THE BLADE
PRAISE IN THE PRESS for The Reggie Pittman / Loren Daniels Quartet "Smilessence" 
Released in Jan 15th 2018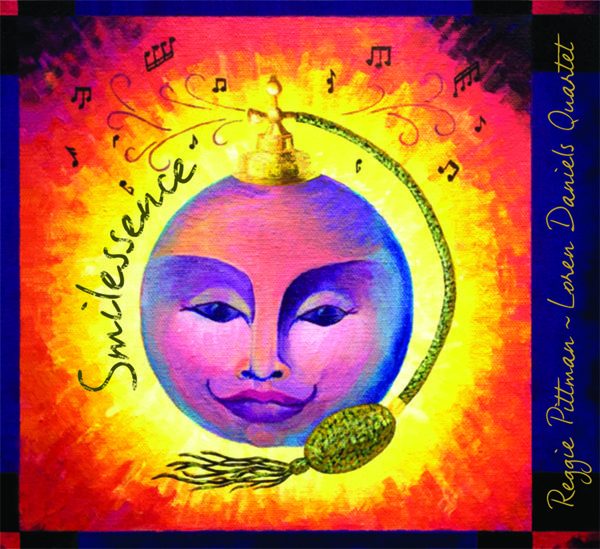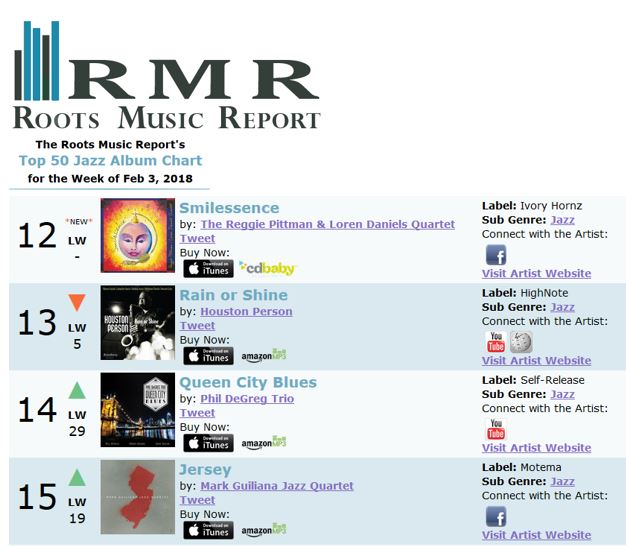 ON THE JAZZ CHARTS —
Smilessence makes a sonic boom! 
CHART
COUNTRY
LIST PLACEMENT
DATE
Roots Music Report
(RMR Jazz Chart)
US
 #12 – Debut Placement
2/3/18
 North American College & Community Chart  (NACC Top 30 Jazz Chart)
US
 #7  – Debut Placement
1/23/18
 NACC Top 30 Jazz Chart
US
 #10
1/30/18
 NACC Top 30 Jazz Chart
US
 #9
2/6/18
"There's an exceptional clarity to this album that's downright exciting. The overall sound is so clearly delineated in three dimensions, so well-drawn and defined. Everything just pops…Every track is an adventure, full of distinct charms and unique perspectives. This quartet isn't satisfied with just playing a tune and seeing how it comes out. There's some thought involved, especially in the way these four performers switch up their styles and see how that adds to the whole…. 
Smilessence
 is exactly that, a smile-inducing shot of jazz that captures the essence of who these four performers are, and where they have been."
The Vinyl Anarchist 
"
Smilessence
is one groove session from start to finish, giving us a rhythmic feeling that is completely in sync with the expression
Smilessence.
Uptempo songs, funk, reggae, calypso and wonderful ballads – the 11 original compositions and arrangements will make you want to hear them repeatedly on your speakers."
Rootsville – Blues, Jazz & Roots Info


"The greatly anticipated second release by the Reggie Pittman/Loren Daniels Quartet,
Smilessence,
is a deeply grooving session from beginning to end! Each member of the quartet shines throughout the recording. This "working band" of seasoned jazz performers digs in an delivers the "goods" on the great variety of rhythmic feels that comprise
Smilessence.
From up-tempo burners to funk, reggae, calypso and ballads, the 11 original compositions and arrangements by Daniels and Pittman grab your ears and never let go! Let the music make you smile, live, thrive, and love.
Smilessence
is here! Up front spectacular collection by four master musicians."
Grady Harp – Hall of Fame Top 100 Reviewer
Amazon.com
"REGGIE PITTMAN-LOREN DANIELS QUARTET / Smilessence: Stopping at various jazz ports of call, this crew gets to grooving early and often on this sweet set that follows the muse but doesn't follow the rules. Tasty stuff from real jazzbos out to spread the good vibes, this little cooker is a real attention grabber."
The Midwest Record – Entertainment Reviews, News and Views


"Leaders Loren Daniels and Reggie Pittman co-lead a swinging quartet through a swinging collection of bop-themed originals and standards. Pittman's got a golden tone akin to Art Farmer and he glistens on the snappy 'Knee High to a Bee Bop' and the hip 'You'd Better Say Alice' while flowing on the muted horn on an autumnal 'And it Goes…On.' Daniels is gentle and casual as he teams with Peretz's ride cymbal on 'Change' and is lithe on 'There Is No Greater Love.'  The rhythm team is aplomb and able to go from reggae on '2 Hip 2B' to Latin on the keyboarded title track and gallop to the finish on the mercurial 'Straight Up.' No frills, just thrills."
Jazz Weekly
"This new album from horn player Reggie Pittman and keyboardist Loren Daniels is as sunny and bright as its cover, a solid and straightforward bop jazz quartet sound that feels like it's been waiting in the shadows preparing to jump out as you pass by. Isn't it a great day? Do you need more beauty in your life?  Here you have a combined whole that just swings and moves forward with considerable momentum. You have no choice but to hop on board."
Tom McCarter – KZSU Stanford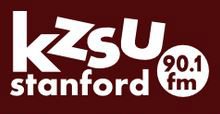 "New Jersey is the home base for the REGGIE PITTMAN-LOREN DANIELS QUARTET. 
They have just released their second album, 
Smilessence.
… The music covers many bases, a touch of swing, some bebop, nice ballad playing, and even some traces of calypso.  Pittman is at his mellow best on the slower pieces, and has a crisp excitement to his approach as the tempi increase. Daniels plays piano, electric piano and Hammond B3 organ, all with equal facility. Richmond (bass) and Peretz (drums) provide solid support.  The group exhibits the kind of tightness that comes from being together as a working group.  The original compositions are all catchy tunes that should find other musicians welcoming them into their repertoires.  
Smilessence 
is definitely a smile-inducing album.
Joe Lang, New Jersey Jazz Society – March 2018 issue
"Jazz pioneers and songwriters, Reggie Pittman and Loren Daniels have released a second CD with their quartet. Comprised of formidable jazz talent, the group has endowed the songs on 'Smilessence' with moods and textures that make the album different from what is expected…. From the first song, to the title track, a mood is set. There is an urbanity about the work that never gets morose. But the work is not just light sounds–in fact, there are deep grooves and swaying rhythms throughout. But the dynamics, especially when one of Pittman's horns is showcased, or Daniels' finds a catchy piano motif to wrap around an improvised section, keep the songs moving."
Lemonwire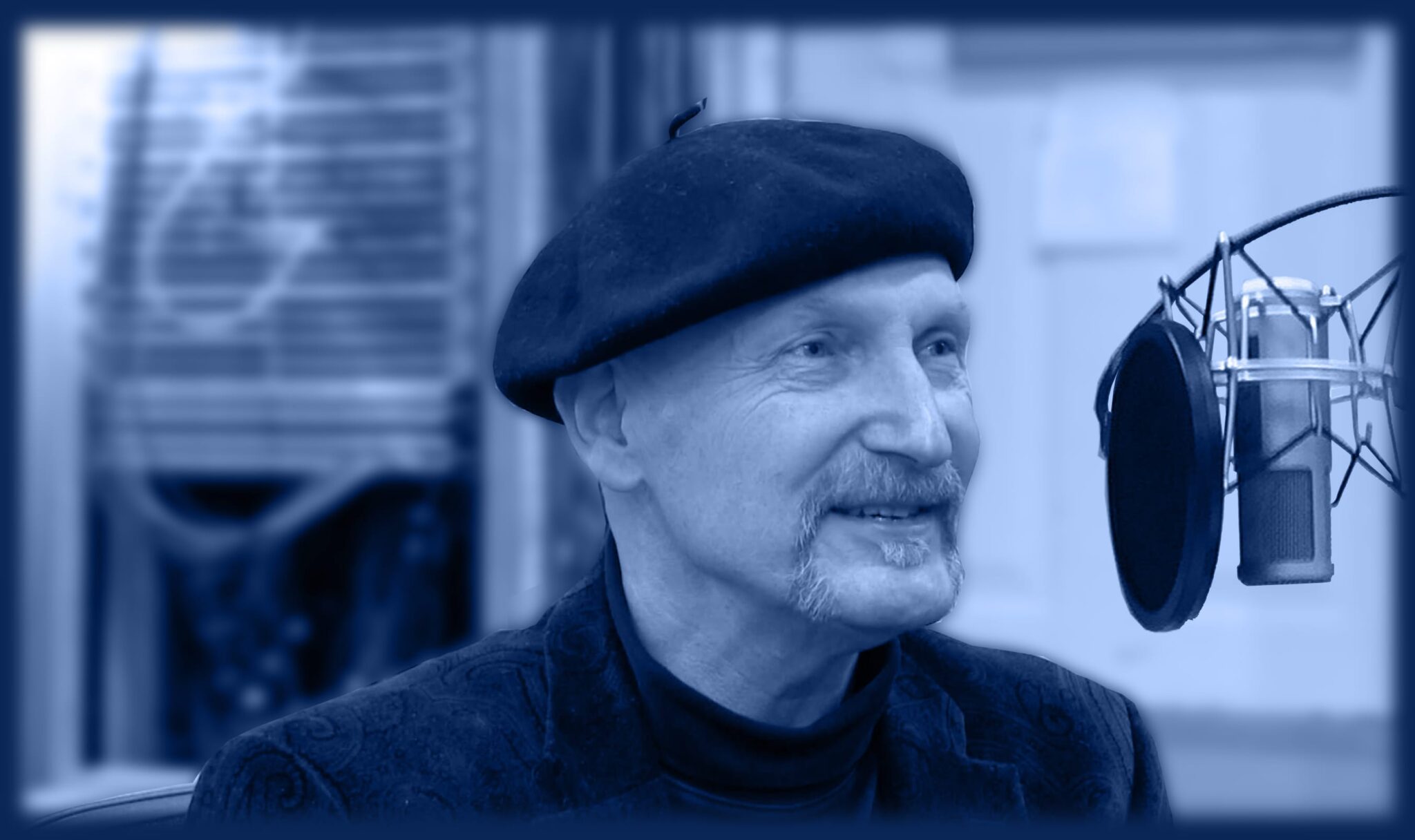 PODCAST INTERVIEW:
Loren Daniels
featured on
Create Your Own Life
with Jeremy Ryan Slate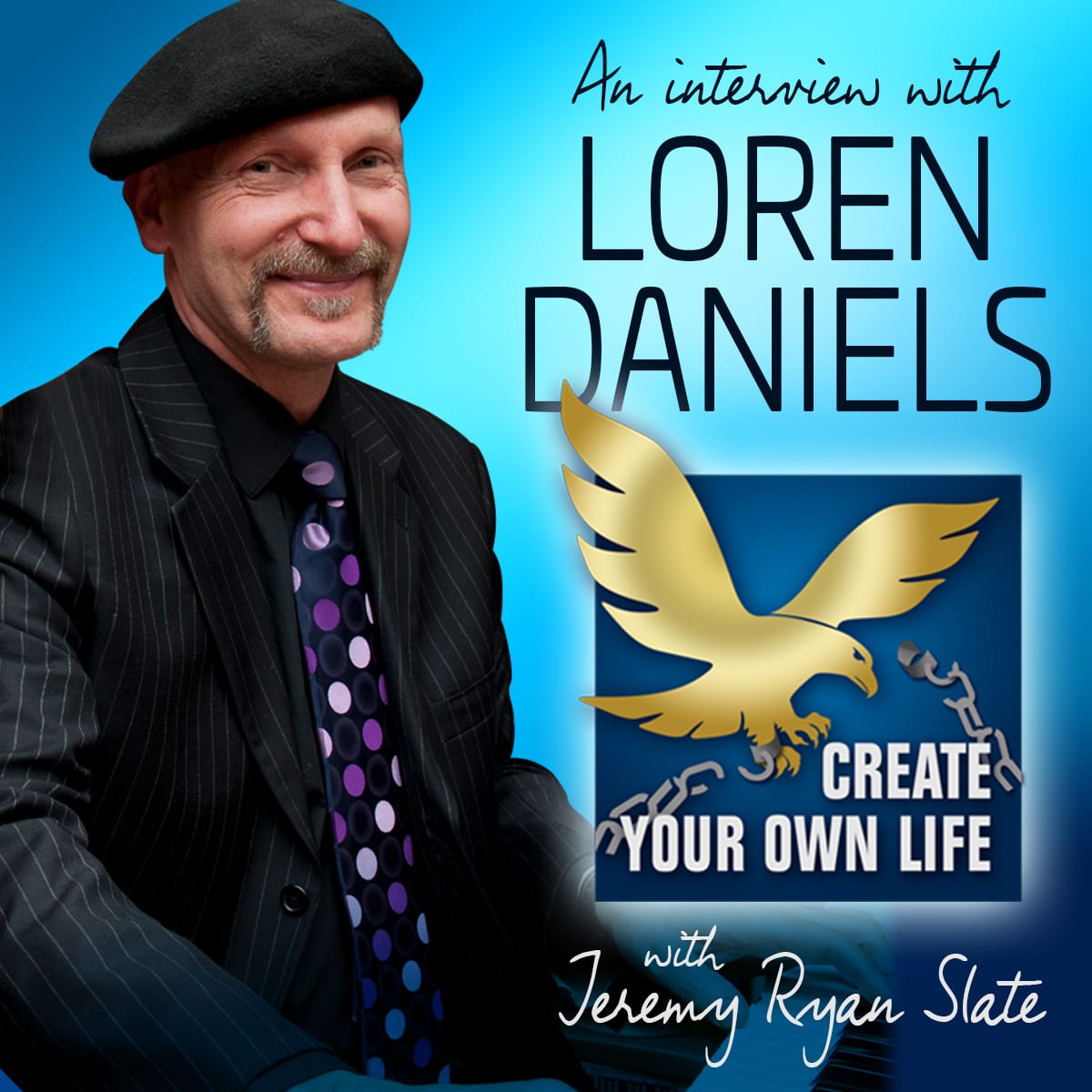 ON THE JAZZ CHARTS: Point A to Point A
Released in 2010
CHART
COUNTRY
LIST PLACEMENT
DATE

Earshot Jazz Chart

Canada

#1

10/19/10

Chart Attack

Canada

#7

10/26/10

Jazzweek Top 200 Chart

US

Charted from 3/7/11 to 5/9/11, reaching #43

3/28/11

Roots Music Report




(RMR Jazz Chart)

US

#45

9/24/10

CMJ Jazz Charts

US

4 weeks on CMJ, reaching #11 (issue #1175)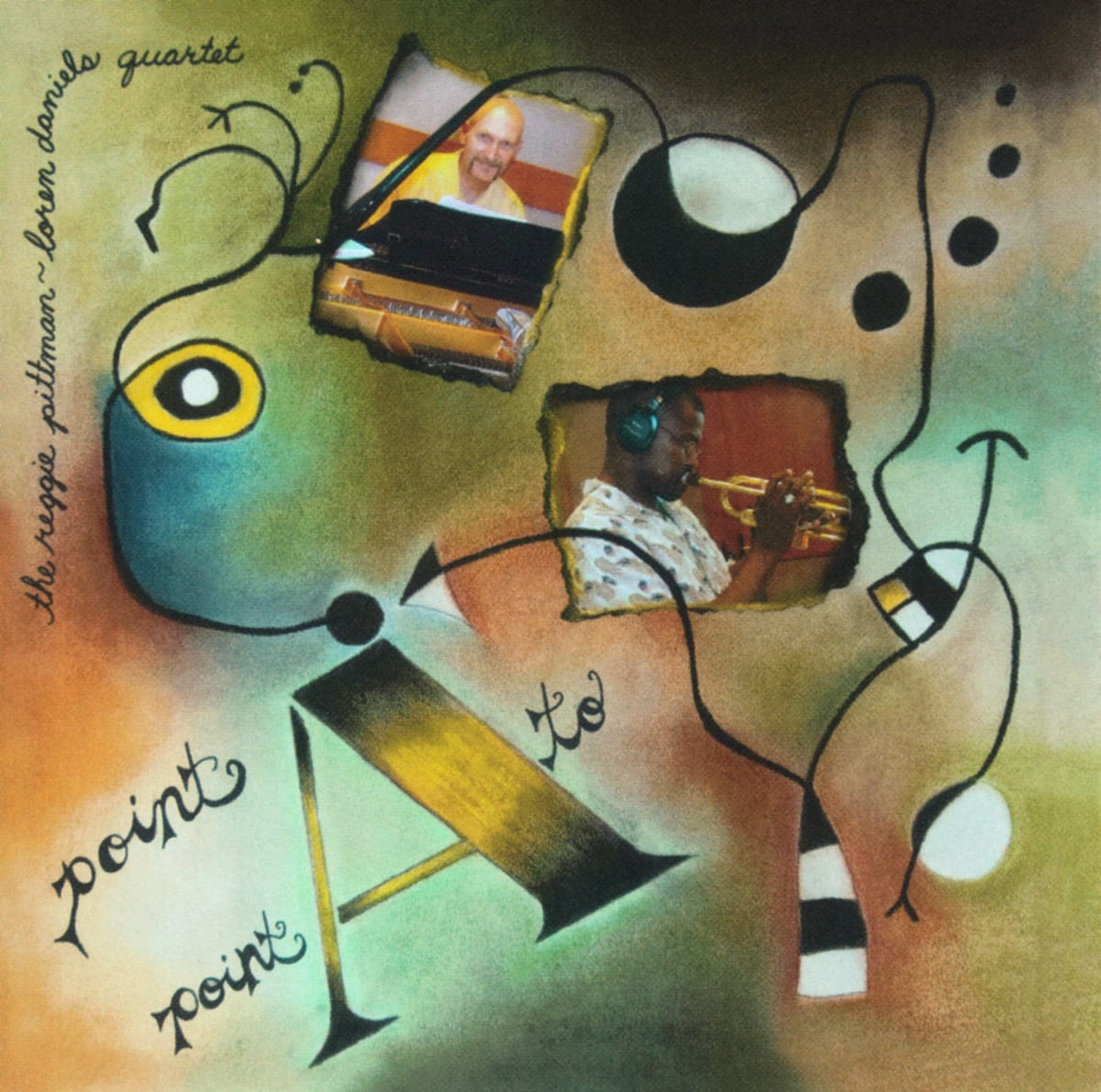 CRITICAL ACCLAIM –

Point A to Point A
"2010 has been a banner year for artists in the genre, and the latest stellar release is from the Reggie Pittman-Loren Daniels Quartet.
"'Point A To Point A' is a return to the great sounds of jazz legends from the past, brought to us by modern storytellers. Weaving in and out of sonic bliss, the quartet both captures the listener's ear and makes it hard to turn the dial, as the album is packed with hits from open to close. It's rare to find an album without a weak moment, and 'Point A To Point A' might be just that.
"Music has, at it's roots, the power to soothe trouble hearts and lift up weary souls. Great jazz seems to do both on a regular basis. Let 'Point A To Point A' remind you why you love music in the first place."
Christopher Llewellyn Adams — Cashbox Magazine
"This is an energetic and upbeat album; the Reggie Pittman/Loren Daniels Quartet play an enthusiastic hard bop that is both playful and thrusting.
"Speed, on many of the ten tracks is of the essence, but I rather liked the late night sleepy feel of Fall, a slow bluesy number that makes you listen more closely to every note. The style may be hard bop but there is a strong sense of swing throughout the album, and playful good humour. 'Point A to Point A' [is] likely to cheer the listener up with its vibrant performances. …This is the Reggie Pittman/Loren Daniels Quartet's debut recording but it doesn't show it — this album brims with confidence."
John M. Peters —
The Borderland (UK) Music Watch
"All four musicians are accomplished…
"Pittman can play fast runs, as in On the B.T., and can be meditative as well, as when he switches to flugelhorn in his own Fall. Daniels has an easy and melodic touch on the keys. Moring and Horner are expert at adding small touches, with tasteful string bends and cymbal flourishes.
"This is a well-recorded CD with a clean sound, with no electric instruments or incoherent noodling to mar the uncluttered vibe. It is a tribute to the golden ages of jazz, as when Daniels sings its praises on It's All Thelonious in a lighthearted fashion. There is no funk, fusion, or rock here — just a fresh viewpoint on straightforward jazz."
Dave Howell — Rambles.NET
"Man, jazz doesn't get any better than this… Loren's piano is superb, and Reggie's trumpet & flugelhorn will take you all the way –
"round" the route, as the CD title implies.
"The opening track, On The BT is clear proof that these gents have got it DOWN… some of the most inspiring jazz I've heard yet this year! Orinthology has a really nice "bump level"… you'll be funkin' through th' streets of wherever home is in no time.
"I give this my MOST HIGHLY RECOMMENDED, as well as an "EQ" (energy quotient) rating of 4.98."
Rotcod Zzaj — Improvijazzation Nation
"What a swinging, tight and vibrant band, rooted deeply in the bop tradition.
"Trumpeter Reggie Pittman and pianist Loren Daniels have teamed up with bassist Bill Moring and drummer Tim Horner for this session. It features original material plus a funky rearrangement of Charlie Parker's Ornithology, which itself was a bebop variation on How High the Moon. My favorites (difficult choices given the strength of all the material) are the title track and Prose and Consequence. Both were written by Daniels. Pittman's Woody Shaw tribute, Shaw is Woody, is also a sprightly and swinging dandy."
Ken Franckling — Jazz Notes
"This jumps off like some lost Miles era Prestige date.
"Solidly swinging post bop that isn't derivative but stays right in the pocket, this is simply a high octane burner that delivers the goods. Everything you could want in a contemporary, straight ahead jazzbo date, this will ping with the hipster in everyone, thrift store wardrobe not required. Well done."
Chris Spector — Midwest Record Recap